---
The ScoutNet UK Scrapbook
You sent us stuff and we didn't have a special place for it.....until now.
This page is for those pictures and reports that you want to tell the world about but can't find anywhere to post it on the Internet. Send your contributions for this page to us via e-mail and we'll put them here for the world to see for you.
---
Explore Poland 2001 Uploaded by Chris Noble 18th May 2000
An opportunity to undertake an Explorer Belt in Eastern Europe.
Following on the success of the recent Poland Network Explorer Belt
Expedition in 1999 (see Scouting Magazine, May 2000), the Poland Network is
busy organising another for 2001. It is currently looking or Venture Scouts
and Ranger Guides that are interested in the unique challenge.
Provisional dates for the expedition are 29th July to 15th August. The
expedition fee of £500 will include: return flights from London Gatwick to
Krakow, travel insurance, all meals, regular newsletters and expedition
T-shirt and a slap-up end of expedition dinner.
For further information, please contact:
Chris Noble - 23, Britannia Way, Westward Ho! Bideford, Devon. EX39 1UP.
Tel. 01237 479200 or Email chrisnoble@clara.net
Craig Turpie - 125(3F2) Morrison Street, Edinburgh. EH3 8AJ.
Tel. 0131 229 5937 or Email poland@scoutbase.org.uk
The addresses for this messages have been obtained from various sources on
the Web, please accept my apologies if you have received more than one copy
of the message.
Chris Noble
---
Fund Raising for Francis House Childrens Hospice - Uploaded by Phil Boyd 10th April 2000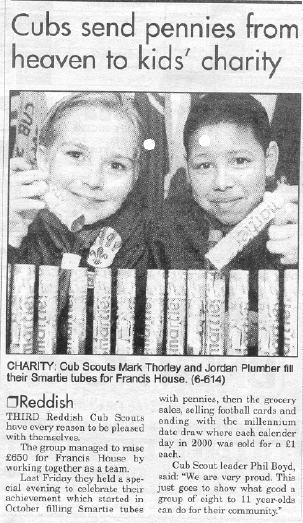 Didsbury


Manchester

Last Friday 11th Feb, at our open evening, our pack presented a cheque for £650 to Francis House ..This being the amount we have raised over the last few months by various activities

First all the cubs were given a smartie tube which they filled up every week with pennies, 5ps etc

The pack then collected groceries from local residents and set up shop one pack evening where they sold them to parents and friends.

A few cubs got their parents to sell football cards

And finally we had a Millennium Date Draw where every date in the year 2000 was sold for £1 each. We had over 60 prizes donated from local shops ands friends etc.

We were well supported at our open evening by Parents, The County Commissioner-John Smith, ACC Cubs-Lisa Heap and our DC for Stockport-Jean Heap, plus a special guest Charles Hamilton, our County Hospital Scouter who is well known at Francis House.

Francis House is a hospice for Children with a short life expectancy and are almost entirely funded by charitable donations and if any group would like to help them they can be contacted for information on 0161 443 2200

Regards


Phil Boyd (ACSL)


Email phil@boyd24.freeserve.co.uk
---
Ten Tors Expedition - Uploaded by Ian Johnson 10th April 2000
Once again, Scouts & Venture Scouts from West Wiltshire will be taking part in the annual Ten Tors expedition, run by the Army across Dartmoor.
Teams of six have to complete 35, 45 or 55 mile routes across Dartmoor, visiting ten of the famous Dartmoor granite tors. We have a web site that is packed with information news & views of how we are getting on. Pictures and reports will be added as we progress through our training & during the event itself.
Best Regards
Ian Johnson
---
Survival Night - Uploaded by Danny Duggan 10th April 2000
Hello
I am Abigail Duggan public relations officer of the 4th Kildare Troup. I felt I had to write about our survival night. It took place on Friday the 25th of February and it was great fun. We hiked 22 miles in all. All around the curragh of Kildare. Some very funny things happened Daniel Brown (foxy) lost his runner in a swamp and we were stuck looking for it in the pouring rain at 12 o'clock at night. We slid down steep hills and Kenneth Whelan (The Trend) fell into a gorse bush. We did orienteering and bases. At 2 o'clock in the morning a lot of us were dragged out in the rain on a another hike. We were too loud to be let sleep. We were outside 2 minutes when we decided to go in and apologise and were lucky Lavina our leader let us of.
Coming up are skills days to prepare ourselves for proper survival nights. All of scouts are great friends and love doing things together we would love penpals if your Troup is interested e-mail me at
duggan@danny.buyandsell.ie
I`ll keep you informed on upcoming activities.
bye for now
ABBEY DUGGAN.
---
Arctic Expedition - Uploaded by Mark Evans April 10th 2000
I'm looking for 12 exceptional young people between 16 1/2 and 20 to join a year long expedition to the arctic. Our expedition website, www.arcticyear.org has just gone on line. Could you possibly bring this venture to the attention of your young people to give them the opportunity to apply - perhaps you could put a link onto your site ?
Many Thanks,
Mark Evans
Expedition Leader
British School Riyadh
Saudi Arabia
---
18th Bolton Scout Hut - Uploaded by Peter Kellett
18th Bolton lost its Hq due to fire see picture 2
Opening of new Hq by Chief Scout see picture 1
Well done and thank you to all who made this possible
Special thanks to Mrs R Vines
Fecity Ltd
Homebase Bolton
and all other friends and fellow scouts who helped us through
troubled times
The boys and Leaders of the 18th Bolton Scout group.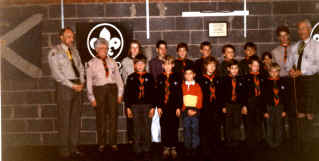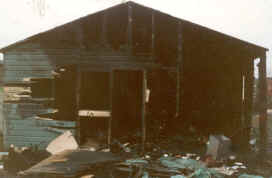 ---
Chiselhurst Invicta - Uploaded by Bob Ulph 22/2/00
I was recently reminiscing of my times in the scouts at Chislehurst
invicta 1963 - 1968. Today I went to visit the old scout hut in Kemnal
woods, only to find that it was a pile of rubble. What a travesty that a
scout troop located in one of the best locations ever, is no more. Also
remembering all the hard work my father put in at the place, laying on
the water to the hut (which resulted in him having to hand dig a trench
of some 1000 yards), building the toilet block, entrance steps and a lot
more.
Does anyone know what happened to the Chislehurst Invicta troop ?.
Regards - Bob Ulph
---
SCOUTING IRELAND. NATIONAL WATER ACTIVITY CENTRE.
KILLALOE CO. CLARE. IRELAND. - Uploaded by: Carl Dolan 22/2/00
INTERESTED IN DOING SOMETHING DIFFERENT ?
INTRODUCE YOUR GROUP TO THE THRILLS OF WATER ACTIVITIES.

LOCATION: Situated on the shores of Lough Derg 1 mile north of the village of Killaloe the

C.S.I. Water Activity Centre is ideally located to cater for your needs.

ACCOMMODATION

: This modern chalet with fully fitted kitchen and all mod-cons can accommodate

. Up to 34 people in complete comfort and is ideal for Summer expeditions,

Pack hollidays or week end breaks.

ACTIVITIES
Sailing Expeditions.
Canoeing trips.
Orienteering.
Hill Walking and Hiking.
Pitch and Putt course near by.
Bar be ques available on request.

TUTORS: Are all Irish Sailing Association certified.

BOOKINGS

: Contact : Reg Turner or Carldolan@eircom.net

2, Elm Park, Croom Co. Limerick.
Phone/fax. 061 397764.
---
Janus99: Submitted by Becca 30/1/00
Hi, I've just come across this web sit and i feel that i need to tell everyone about a fantastic summer camp i went on with ventures and rangers all over Kent called Janus!!!!!! Approximately 166 young ventures and rangers traveled up to north Wales this summer on the 2nd of august. There we stayed in a little town called Bala for 2 whole weeks!!!!!!
Not only did everyone have the chance to take part in loads and loads of activities but we all met many many people and formed many many really good relationships which are still going strong!!!!!!!! We all wish we could go back there as many would agree that is was the best camp ever and it is going to be very hard to make another camp as successful in the future but im sure we will all try!!!!!!!!!!!!
I would now like to say hi to anyone reading this who went!!!!!!!!!!!!!!!!! and long may it go on
see ya from Becca
(who was in bedrock------the best sub-camp!!!!!!!!!!!)
---
Daisey the traveling bear: Submitted by Lesa 13/1/00

Hi, my name is Lesa and I am the Troop Leader for Junior Girl Scout Troop 280
and Cadette/Senior Girl Scout Troop 282. Last June we launched a project for
the Girl Scout holiday "Thinking Day" celebrated February 22 by all Girl
Scouts/Girl Guides around the world. We sent a Teddy Bear for a trip around
the world via girl scouts and guides. We have lost track of her and would
like some help locating her. The last message I received was from a young
qirl quide in Pakistan. As far as I know Daisey's intended destination from
there was Malaysa. You can see a picture of Daisey and read of her
adventures at Troop 282
and clicking on Daisey's page. I would appriciate it if everyone could keep
and I out for Daisey and contact us if you have any information,
lhe7640633@aol.com
---
Jersey Adventure Camp: Submitted by Hayley Haigh 29/9/99

JACk Jersey Adventure Camp was launched.
This is an appeal to raise money towards a new Headquarters in Jersey. The

total cost of the building is approximately £1 million. I know this sounds expensive, but for Jersey this is quite reasonable.
Lots of events are taking place throughout the year. Visit our website http://members.spree.com/family/jack2000
Please support us and make a donation.

Hayley Haigh
Jersey Scout Association
---
---