---
Who is ScoutNet UK
Everyone who works with ScoutNet UK is a member of the Scout Association. Here we have some photos and brief Scouting biographies.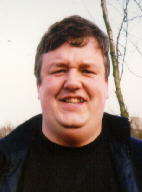 Pete Sturgess (webmaster@scoutnet.org.uk) is the webmaster at ScoutNet UK and is responsible for the day-to-day running of the site. Pete is also IT Advisor and Deputy County Secretary for West Lancashire Scouts. Married to Kate with a Son Tom, Pete's real job is as Proficiency Coördinator for the Lancashire Council for Voluntary Youth Services (LCVYS) and also runs (SturgessNet). Founder member of 3rd Foot & Mouth Catering Corps who provide gourmet standard food for Scout & Guide events and courses.
See http://www.westlancashirescouts.org.uk/
Pete is the longest standing supporter of ScoutNet UK and coördinates web-hosting.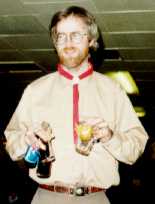 Mark Stephens (mark@scoutnet.org.uk) is based in Aire Valley District, West Yorkshire. He first became a member of the Scout Association when he joined the 1st Lichfield Cub Scout Pack, Staffordshire as a Cub Scout. He is in a photo taken at the time of the opening of the new HQ building (about 1976) which may still be hanging up by the flag pole. As the "1st" did not have a Venture section he moved to the Samuel Johnson VSU (6th Lichfield) in 1978 where he earned the QSA.
He held an ASL warrant with the 6th Lichfield for a short time and then an AVSL's warrant for three years with the Heaton Pioneer VSU in Stockport. He then spent ten years as an AVSL & VSL with the Aztecs VSU, part of the 5th Stalybridge Scout Group, Greater Mancheser East County before a change of job sent him over the Pennines. Here he spent some time helping out with the Shipley Venture Scout Unit who are part of the 4th Shipley Scout Group which is in the Shipley & Baildon District of West Yorkshire. Subsequently he has worked with Venture Scouts and Explorers in Bingley District.

Mark is coördinator for the Photo of the Month competition and is the overall coördinator for ScoutNet UK.
ScoutNet UK Alumni
Here are some of the people who have worked on ScoutNet UK in in the past and for whose contributions we are grateful.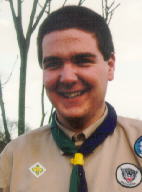 Neil Williams (neil@scoutnet.org.uk) is a recent graduate of Manchester University (studying Computer Science with German), ACSL (Bagheera) of the 9th Ormskirk, Ormskirk District IT Adviser and a member of Manchester SSAGO.
I started off in the Beavers at Old Roan Methodist Church, then moved to Aughton and joined the 9th Ormskirk, where I went to Cubs, Scouts and am now in Ventures. I've been a Cub leader since I helped out for my Pathfinder Award service, and enjoyed it so much (!) I carried on, getting my warrant in 1997.
Neil was the coördinator for the Website of the Month competition.

Angela Arnold (angela@scoutnet.org.uk) Basically, I started out as a Guide at the age of 10 (there being no Brownies in the village where I lived) and I never really left. When I reached the upper age limit, my Guider left and I took over. In 1983 The Guide unit folded due to lack of girls of the right age, so I transferred to Rainbows. This coincided with my neice being 5 so she was able to join, naturally when her brother reached 6 he wanted to be a Beaver and he twisted my arm so much that I ended up starting a new Scout Group (there being nothing in the village for boys). Anyway I enjoy it so who cares!
Angela had the brains of the team and compiled the monthly quizzes.
Others previously involved include Matt Spalding, Will Laidlaw, George, Lonnie and Tony. ScoutNet UK was founded by Simon Pearce.
---