Photo of the Month - April 2000
A photo outside of 10 Downing Street! Not only is this really cool but this is why I have made this a ScoutNet UK Photo for the Month.

The contributor who only signs herself grotbags says her husband actually took this particular photo but many of the parents who accompanied them on the day also managed to take virtually identical photographs.
Our scout group is the 1st Barton Seagrave Scout Group, in the District of Kettering and the County of Northamptonshire. The picture I am sending you is of my Cub Pack of which there are 40 members. There are too many boys in the photo to list individually.

The photo was taken on 9th November, 1999 when we had a visit to London and Wembley stadium. The main idea of the visit was to fly a millennium celebration flag in an unusual place. Our group had made the flag in conjuction with the 4th Kettering Cub Pack, who were joining us on the event. We filled a 54 seater coach and a 15 seater minibus on the trip, all with cubs, leaders and parents.

As Wembley was due to close shortly we had arranged with them to be allowed to fly our flag in the communal bath in the England changing room, and in the Royal Box, which we did.

But during the pre Wembley walk around London we arrived at the gates to Downing street to show some of the cubs who had never been to London before where Tony Blair lived. One of the assistant Cub Leaders, Sarah Barwell, who's well versed in the charm department, batted her eyelids at the policeman in charge who promptly invited us to actually go into Downing street and hang our flag on the door of No. 10. What a smashing suprise for all the Cubs who actually afterwards felt this was the best bit of the whole day.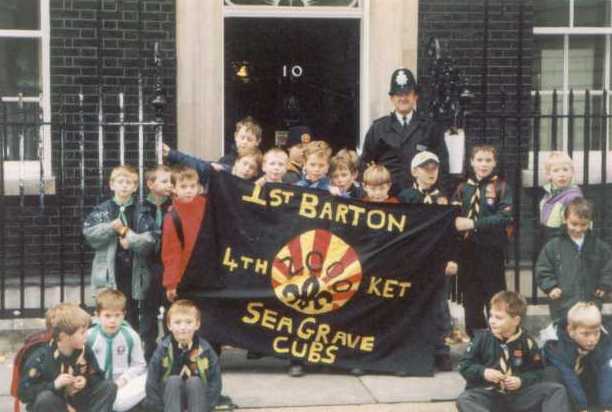 We don't currently have a web site but are considering setting one up when we have gathered enough information about doing this.

We contacted the BBC LOOK EAST programme about our visit to Wembley and because of the closeness to the closure of Wembley and being a local news programme to our area, we were filmed at our group HQ by the programme about the visit and my Cubs were actually on the programme on the following week.