Photo of the Month - April 1999
The awards are raining down upon the Skye Pack of the 40th Fife Touch Scout Group, who hail from Dunfermline, Fife. First they win a safety competition then to top this they get to be a ScoutNet UK Photo of the Month. Looking at this photo I noticed a few things which prompted me to ask the contributor, James 'Cubby' Brown, a few questions about what its like running a mixed group and what some of the badges were. James replies ...
We have a membership of about 200 in our group, 2 Beaver Colonies, Two Cub Packs, one scout section and a venture section. We run all sections mixed, we changed as soon as this was allowed and have never looked back. In our time with girls in our pack we have had two girls who went to Brownies and Cubs and many who left the Brownies and Guides to join our group.

I think that it was a wise move by Scouting to let girls enjoy the movement to the full, as girls and boys enjoy the same thing. This caused little upset in our group, and little change. It just took a little bit of common sense. Our pack will normally be made up of about one third of girls at any one time.

Our group celebrated its Silver Jubilee in 1996 hence the badge worn above the Cub Scout Challenge badge on Paul ( the boy on the right of the picture.) The badge above the County and District badges is our pack's name badge, the 'Skye Pack'.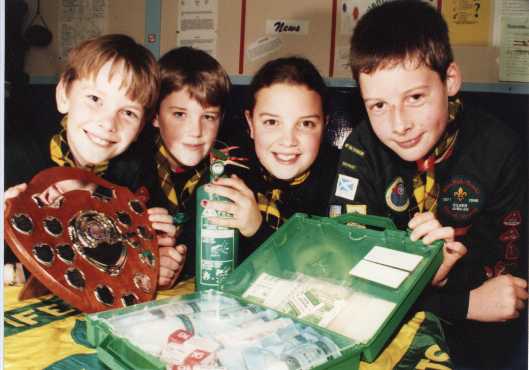 Last year a safety competition was won by our Pack. It is an annual event and we have recently won the competition again. The competition is run by the District, who encourage outside organisation to run bases on safety as found in the Cub Scout Handbook. i.e. the Police, Fire, St Andrews Ambulance service, Crime prevention and bases run by other Leaders on knots, etc. We won the trophy shown in the picture.
Our Group wears the dress McLeod of Lewis tartan. Until recently we were the only group in the UK and probably the world to wear it but another group in a different area has now also chosen to adopt it.
Our pack is called the Skye Pack, because when our numbers increased it allowed us to open two packs. We were looking for names for the packs and decided to adopt names of Scottish islands, these being the Skye Pack and the Arran Pack.
Touch is the part of Dunfermline that our hut is built in. It is pronounced 'Tooch' with the same sounding ending as Loch, not 'touch' as to touch something with your hand.
James Brown has a web page that you might like to visit which has more photos, especially one of his Cubs being invested into Scouts on the Nemesis at Alton Towers. Go to http://www.users.globalnet.co.uk/~cubby