Photo of the Month - August 2001
John Hunt likes this photograph and it is plain to see why. Not only has he sent it off to Scouting Magazine but he has also submitted it to this photo competition.

I am very impressed by this photo, the sharpness, exposure and colour are good and the serendipitous composition with the diagonal of three heads adds to the sense of dynamism. What really makes this a Photo of the Month is the story in the picture and here the expressions of pained effort on the Scouts' faces, the stressed angle of their bodies, and the frantic wake of the boat, capture a moment on the cusp of victory or defeat. I don't know what the outcome of this race is but I can tell these guys are winners. For many Scouts and Scouters it is moments like these that become our proudest memories. Now here are Johns own words ...
I took this photograph at the National Sea Scouts Regatta at Kingston recently. The crew is the under 14 coxed double skulls from Cuddington (Warspite) in Surrey.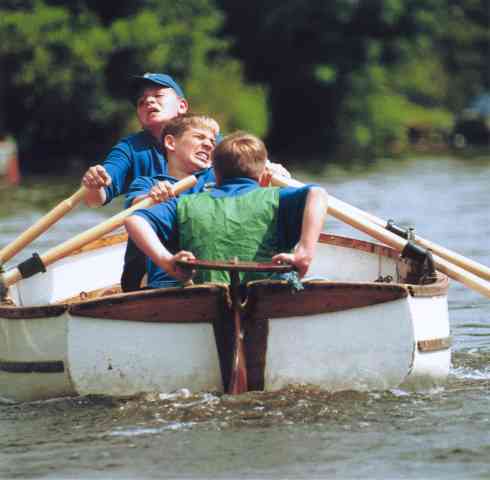 The letter that accomponied this photo was rather brief so I asked John some more questions.
Thanks for the note and glad you like the picture and I also liked the composition and the determination on their faces. Incidentally I also sent it to Scouting so will see what they do with it. To answer your questions.

No I am not a professional ie I do not get paid for my pictures but do try to make them professional.
This is 35mm Canon Eos 3 with a 350mm lens at about 1/800 sec.
My involvement is that I am the PRO for Kent but used to be an SL with a Sea Scout group in Surrey.
The background is blurred only because I was sharply focused on the faces and it is a straight print.
The National Sea Scout Regatta is held every year at Kingston and groups come from Walsall, Torbay, South Coast and the Home Counties. The major awards were won this year by Cuddington (Warspite) who have a river HQ at Thames Ditton and a land based HQ in Worcester park Surrey. It is a two day event with the Sea Rangers and I estimate about 100-150 taking part. I have some standard pictures of the winning groups but no action, bog standard presentation.
Although I belong to a couple of photographic clubs and the RPS I have not done any Scout exhibitions. As a matter of interest a photograph I took at this regatta 2 years ago was awarded a runners up position in The Independent newspaper competition for making news. I will use this one for a competition if something suitable comes along.

Regards John.