Photo of the Month - August 1999
Rob Gell sent in 11 photos from 350 he took during the troop summer camp with a digital camera. Here are what I think are the best two together with Rob's notes.
The 1st Newbold Verdon Scout Troop of Ashby and Coalville District in Leicestershire, recently went to Mid Wales for their troop summer camp. The camp was held at Parc Isaf camp site, Dyffrn Ardudwy, from 24 July to 31 July.

Our troop consists of 12 regulars lads, of which 8 went to the camp. Seven started the camp with one joining us from his family holiday on the Tuesday!

For the church service on Sunday, 25 July, we joined the congregation in a beautiful little church in Dyffrn Ardudwy. We sang in English alongside some of the Welsh hymns. (The hymn books contain both versions!) This was to be the one and only day which contained overcast weather.

On Monday, 26 July, we undertook a 12km flat walk in high summer conditions, including a walk over the wooden railway bridge spanning the estuary at Barmouth.
A trip to Mid/North Wales would be incomplete if a slate cavern was not visited. We visited the Llechwedd Caverns, which we all found very interesting.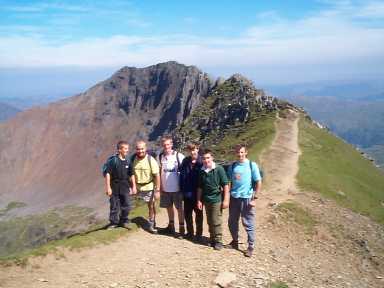 Some very proud Scouts looking on, as they are pictured in front of a challenging but enjoyable mountain. These lads were using this hike as a practice towards their Chief Scouts Challenge!

The younger party used the well trodden path from Llanberis for their ascent of Snowdon. One of these lads told me "This is the most enjoyable day of my life!" whilst he was sitting by me at the summit.

Left to right: Michael, Pete Deacon - SH, Nick - PL Buzzards, Andrew - APL Kites, Paul - PL Kites, Eddie - APL Buzzards
Camera: Rob Gell - VSL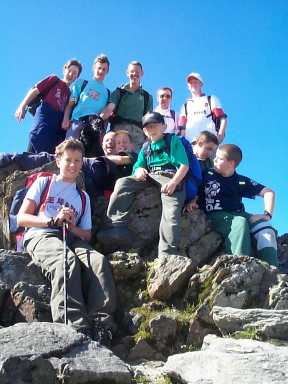 Left to right back row: Andrew - APL Kites, Eddie - APL Buzzards, Andy Hickinbotham - SL, Colin Davies - SH, Nick - PL Buzzards.
Left to Right Middle row: Rob Gell - VSL, Michael, Matthew, Paul - PL Kites, Charlie.
Front Row: Scott.
Camera: Pete Deacon, SH.