Photo of the Month - September 1999
I think Ewan Evans, SL 1st Theale & Calcot Scout Troop, must have been quite proud when he took this photo of one of his Scouts receiving an award at a campsite in Padworth Common (nr Reading) on Friday 9th July. I will let Ewan describe the event in his own words.
The William Palmer Award is an annual event awarded to an individual Scout who, in the opinion of the District epitomises the true "Scouting Spirit". One Scout from each Troop in the District is selected by members of their own Troop and the finalists are interviewed by a board consisting of the District Commissioner, ADC Scouts and various other members of the District Leadership.

Candidates are interviewed to assess their Scouting skills, knowledge and adherance to the Scout Law and Promise. This year, we were delighted to learn that Stephen, a PL with 1st Theale & Calcot Scout Troop (Pang Valley, Royal Berkshire) won the William Palmer Award.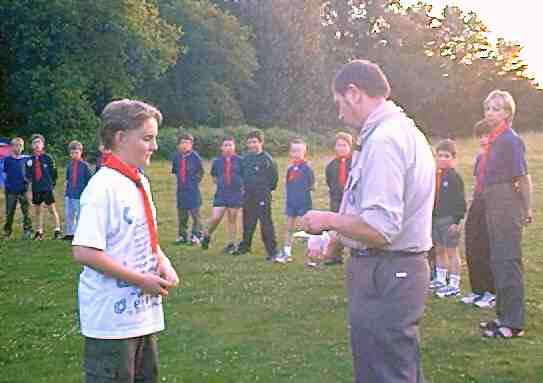 His prize consisted of book tokens to the value of £15.00, a limited edition leather woggle, a framed certificate and an engraved glass paperweight. Stephen was awarded his prize by our ADC Scouts - Jeff Howman at the Kennet Valley Cub Pack camp where our Scout Troop were helping out.
You can find out more about Scouting in Theale at http://www.welcome.to/Theale_Scouts