Photo of the Month - December 1998
If your Scouts are planning a Christmas Meal why not try this idea from Roy Elmes.
Hi there, I am the Assistant Venturer Leader of Platabeen Venturers which comprises of 1st Collaroy Plateau and 2nd Narrabeen Venturers which is in the Kimbriki Zone of the Sydney North Region New South Wales, Australia.

On Wednesday, 15th July 1998, our unit had a regressive dinner. That is we start with coffee then a dessert then the main meal then entrees, and each course at someone else's house. I took this photo whilst we were at dessert.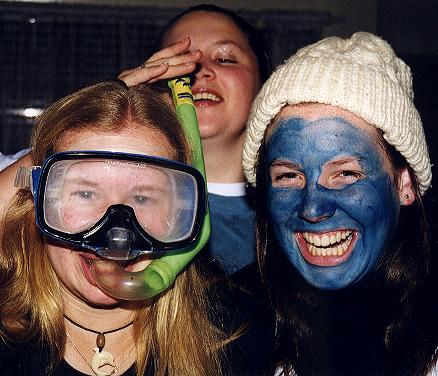 We had a theme for the night. You had to come dressed as something starting with "S". The girl on the left, 16 years old Katie Wright, was a Snorklist, and the girl on the right, 17 years old Julie Parry, was a Smurf. The third girl in the background is Melissa James, 15 years old, who was dressed as a soccer player. Both the girls in the front our now Queens Scouts.
Our Venturer Unit also has a Web page with other photo's on it. www.geocities.com/Yosemite/Rapids/7868/