Photo of the Month - January 2000
The Cub Scout Leader of the Cobra Cub Scout Pack is Andrew Terry. The Cobra Pack is part of the 3rd Hayes (St Mary's) Scout Group in the County of Greater London Middlesex West. He has sent in some video images grabbed on his PC. Some were filmed by Andrew and others by his helper, Josh Hayles. The Cubs meet on a Monday night when a great many activities are organised.
The first photo is from our first hike in the Chalfont Area. John can be seen studying the map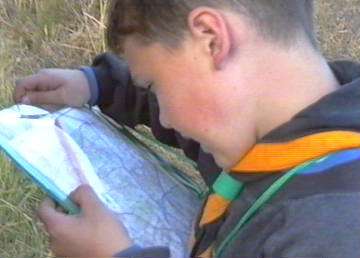 The next image was taken from our recent coverage of the Scientist Activity Badge taken on Monday 23 November 1998.

Here, the 3rd Hayes Cobra Cub Scouts can be seen making a bulb light up using a paperclip and drawing pins. Paul and Terry assist Christopher, a Beaver Scout doing his "link" to make his bulb light

The Cubs also enjoyed a Question and Answer game about electricity, made electromagnets and created a chemical reaction.