Photo of the Month - July 1998
Another triple feature for the July Photo of the Month. Well what can you do when someone sends in three great little photos that show the big variety of activities that Scouts can get to do. Hailing from the UK Scout County of Greater Manchester East: Jim Hill, who took these pictures, is the Scout Leader of the 3rd Davyhulme (Lostock) Scout Group, Urmston District.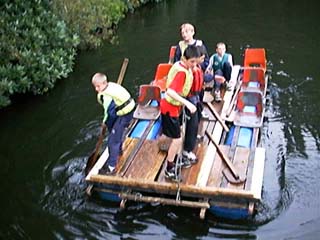 Back in September of last year, the Scouts went rafting during a Weekend Camp at Tawd Vale Scout Camp.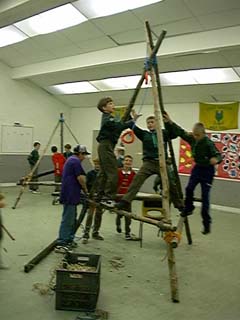 This pioneering exercise in the Scout HQ took place at the beginning of September last year. It was a joint Patrol exercise as part of the Leadership Award and Patrol Activity Award.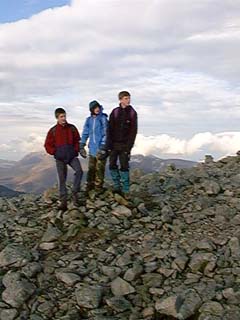 John had read about the Annual Remembrance Sunday Service (9th November) at the top of Great Gable (2950ft / 899m) in an outdoor magazine. Our local Parade and Service seemed to pale into insignificance when compared to the prospect of a trip to the Lakes and a decent climb. Unfortunately, the journey and climb took a bit longer than anticipated, and we arrived nearly an hour too late for the Service. This year we'll try again, but travel on the Saturday and camp overnight in Wasdale Head.
Jim's Scout Group hopes to have a Web Site in the near future.