Photo of the Month - November 2002
Scuba diving has featured before in this competition. It is a popular activity that can be safely tried out in a swimming pool.
Here are the 18th Warley of Calderdale West, West Yorkshire, This was the Explorer Scout scuba diving evening back on the 28th October. You can see in the water James T. and Jamie H. with an instructor.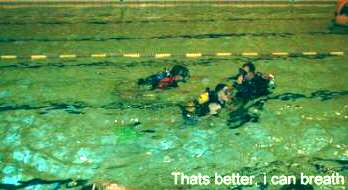 Jamie H. supplied the photos and tells us that you can see more photos of 18th Warley at http://www.warleyscouts.org.uk/ .