Photo of the Month - November 1999
Jeff Gordon is an Assistant Scout Leader with the 14th Ormskirk Scouts, West Lancashire, a healthy sized group with about 80 boys in it (24 Beavers, 28 Cubs and 28 Scouts.) Jeff's son is in the Cubs and when they held the Ormskirk District Cyclo Cross & Go-Kart Races for Cub Scouts he brought along some of his Scouts to help set up, marshall and dismantle the course. Jeff also took along his digital camera and came back with this action photo of the event.
The annual Cyclo-Cross and Go-Kart races are held at Rufford Park, a recreation ground opposite the Scout H.Q. which was left to the people of the village by Lord Hesketh many years ago. About 140 Cubs from a dozen of the 22 Groups in the District were there.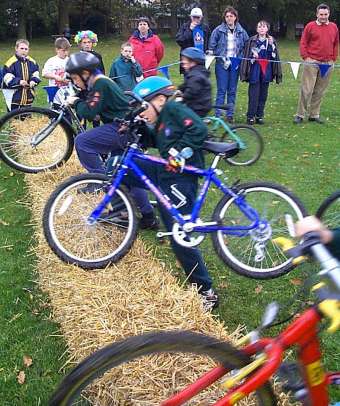 The Cub at the rear of the photo is wearing a clown's wig! Each Go-Kart team has to be in fancy dress for the parade around the circuit before the races start.The eventual winners of both events were the Rufford Cub Pack (14th Ormskirk) who received shields and medals.

The event was organised by Steve Kirby, a Cub scout leader from the 45th Ormskirk (Burscough) Scout Group, ably assisted by Rufford Cub Scout leaders and Eric and Ann Simms (D.C. Cubs, Ormskirk District.)