Photo of the Month - December 1997
I know its December but some people are still basking in the warm glow of last summers great camps and other outdoor activities. GME-X (or the Greater Manchester East Experience to give it its full title) was one of those once every four years, lets get the whole county together, events that makes such a great impression on all who take part.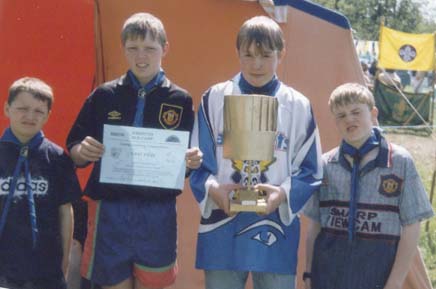 Andrew Stone, the leader of the 8th Stalybridge Scouts, Greater Manchester East, tells me that he had to drag his Scouts along to the awards ceremony. They were getting ready to leave when they heard that third and second place of the Americas Sub-Camp Cooking Competion had gone to other troops. The look of suprise on there faces when they heard they had won made Andrew's day. From left to right it is David, Damien, Carl and Gavin.