Photo of the Month - February 1999
This is the time of year when Scouts plan activities with the cold weather in mind. If you have tried hikes, camping or just playing football in the snow then here are some new ideas for you if you can find somewhere where the ice is 15cm thick. Graham Holland of ScoutNet UK has provided the photos and the words.
Operation Icicle (OI) is a annual week-long winter activity camp for Scouts from Chicago's Three Fires Council, Illinois, USA. It is run at Camp Freeland Leslie, Oxford, Wisconsin, and took place last year from December 26th 1998 to January 1st 1999. Some of the activities take place on the frozen Lake Emerick.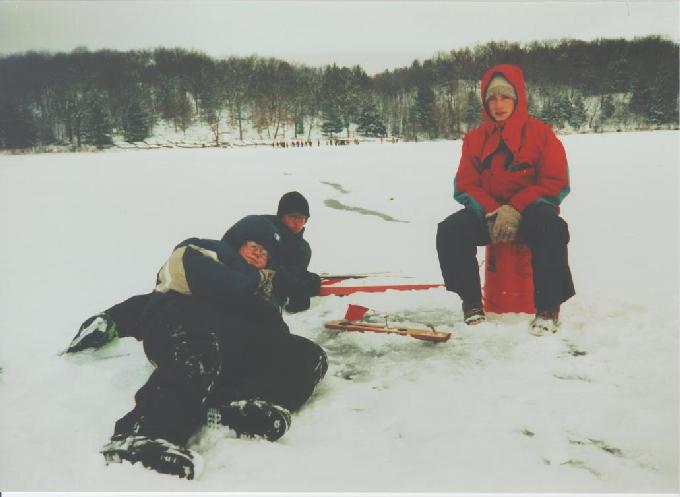 Three Scouts set up their ice-fishing equipment. First a hole is made in the 15cm (6'') thick ice using an auger (a large drill). Then the hook, bait and line are lowered into the hole and attached to the trigger above. The patient fishermen then retire to a distance so that the fish cannot sense them on the ice above the hole. When there is a pull from a fish the trigger releases the spring-loaded flag and the Scouts rush back and hopefully reel in a fish.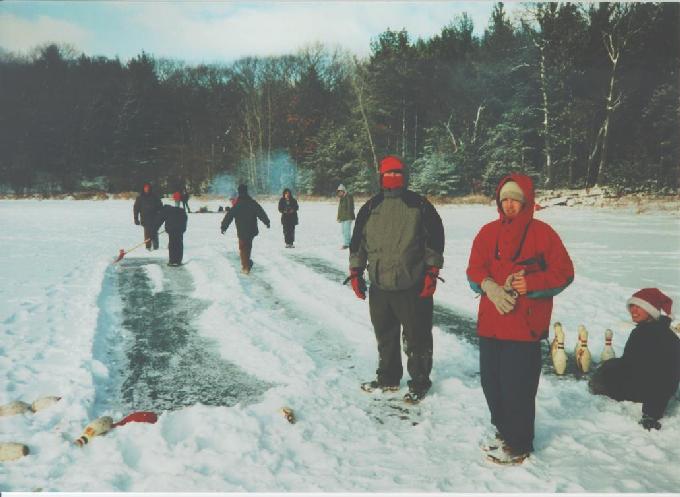 Snow was cleared from the frozen lake to create two bowling lanes - what a great idea! In the background you can see smoke from a fire built on the lake. The ice was so thick (15cm) and the weather so cold (typically -17 C) that there was no danger of it melting a hole in the ice.
There are some more photos from Operation Icicle in the Gallery.