Photo of the Month - January 2001
Every photo in the Photo of the Month competition can be seen as a challenge or an idea for an activity. So when you are planning your next program you could print out these pages and try and get program ideas from each month. This months idea would be to get in contact with a Scout Group overseas and exchange banners or other mementos. Of course every month you should be thinking about taking some photos of your Scouting activities and sending them in to the ScoutNet

U

K

Photo of the Month competition.
This months photo was sent in by Greg Dalton, Scout Leader for the 2nd Mornington.
The attached photo was taken on Sunday 15 Oct 2000 at the Mornington Peninsula District Joey Scout Hop at Camp Niall. The photo is of some of Joeys who attended the hop and importantly the two banners in the background. The one on the right is the Mornington Peninsula District Scouts banner. The other is the 43rd Northampton Scout group. This banner was sent to Mornington after District Joeys sent friendship cards to the Northampton Beavers for their millennium camp wishing them best wishes for this camp. In return the Northampton sent their banner to share with our district Joeys.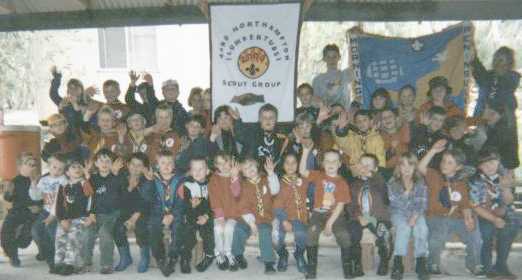 Greg Dalton who sent in the photos tells us more ...
The photo was taken by Karen Daetz (Possum) Mornington Peninsula District Joey scout leader who asked if I can post it up onto the Internet. I will be putting this photo into the 2nd Mornington Sea Scouts web page shortly as I am not only the Scout Leader for 2nd Mornington I am also the groups web page master. And I have Karen's two son's as scouts in my group.
I wonder if they know how to play the game of Mornington Crescent?