Photo of the Month - March 2001
Getting a celebrity in your photo is one way to catch the attention of the competition judge.
This is from Sarah Walker of the Uther Pendragon and RS Verulam (UP&V) District VSU, St Albans, Herts. This is of some of the unit outside the SkyDome baseball stadium in Toronto on the summer expedition 'A Walk on the Wild Side' Canada 2000. The expedition also included a week long trip with canoes into the Algonquin Wilderness.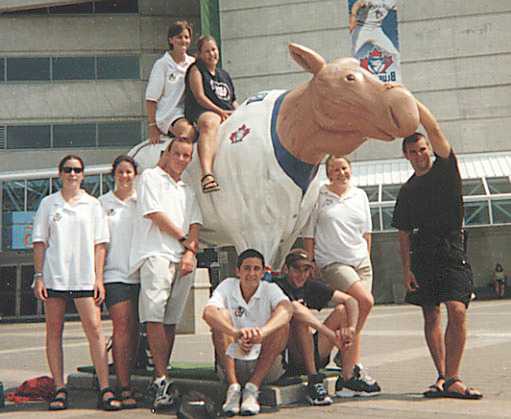 Pictured L-R are Kate P, Michelle, Freya C, Richard S, Sarah, Richard C, Andrew S, Martha and Martin S with the 'Blue Jay Moose' part of the Toronto 'Moose in the City' Millenium Celebrations
Find out more at the UP & V website and the UP & V fellowship website.