Photo of the Month - May 2001
Following on from last month's competition winner we have another two gentlemen, but this time it is a good thing they are not in uniform. Gareth Farell, who is the Cub Scout Leader of the 31st Battersea Group in Greater London South, has sent in this picture from the May 2000, Battersea District, Cub and Scout Millennium Camp at Youlbury International Scout Camp. Gareth's explanation for the muddy state these guys find themselves in is quite simple.
Channon (right) and Tyrone (left) are pictured at the May 2000 Battersea District Cub and Scout Millennium Camp. No matter what you tell the Cubs they never listen, like don't go into the mud bath ... I mean grass ...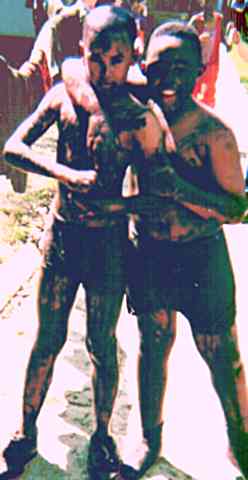 The 31st Battersea Scout Group have a web site at http://www.31stbatterseascoutgroup.homestead.com/31st.html.